We are excited to share our most current news with you! Here's what we've been up to…
On January 1, 2016 we re-branded from  Patricia Catering to Patricia Catering and Cocktails!
Expanding on our classy cocktails is an added focus for our team. We are creating popular cocktails and full service bars for Omaha weddings as well as for corporate events. We bring the bar to you! So convenient and easy for our customers.
Pop Up Happy Hours! is an addition to our bar offerings.
Adding a Pop Up Happy Hour! is a great way to make your next meeting or fundraiser more exciting. The sky is the limit for our Pop Up Happy Hours, it's a great way to reward your employees for all that they do, grow support for  your favorite  charity, show your customers how much you appreciate them, network  for business connections, and  enhance your customer base.
The question isn't why host a Pop Up Happy Hour, it's why wouldn't  you host a Pop Up Happy Hour?
Food and drinks have even been shown to keep your audience more involved and attentive, plus it makes for a memorable experience. Our professional and knowledgeable  staff will help make your event a success! Click here to contact us!
One of our latest events brought us to  The Big Event Omaha! Local charity events and  nonprofit organizations are the focus of this noteworthy event hosted at the Omaha Design Center.  We are honored to partner in this event. To learn more check it out here on Facebook. We used our creativity and expertise to create  the buffet table theme of a Blooming Buffet, and boy did we bloom! Take a look at our floral food garden display….lovely, colorful, and tasty.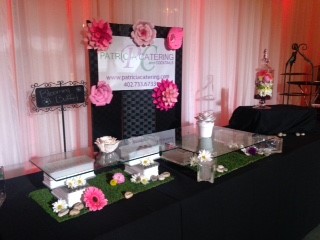 Thanks for checking us out, we will have more news soon!
Cheers!  Anna and the Crew at Patricia Catering and Cocktails